These are 13 books that have impacted my attitude and career in a very positive way. Here is a brief summary from my perspective about the books, and why they are a must read in my opinion. I am not trying to sell any of these books and have no links to do so. However, I sincerely hope that one or all of these books benefit your lives positively as they have mine.
Skill With People – Les Giblin
I was not a big reader up until 2002. While going through school, reading, to me, was always a chore. I always associated it with work rather than enjoyment. This book was the first to start changing my perspective.
Skill With People is a short 30 Page book on People Skills and what motivates others. The short book changed the way I dealt with people from that day forward. It was amazing to see the way people began to respond to me as I practiced the teachings of the book. This was the 'ah ha' book that made me start pursuing more books that would give me tools to better my mind and change the world around me!
---
Rich Dad Poor Dad – Robert Kiyosaki  Follow on Twitter
Rich Dad Poor Dad for me was the first book that opened my eyes to the different areas of making money (cash flow quadrant). I was 19 at the time and the only way I knew how to make money, and had seen my family make money, was trading hours for dollars. While having a job and making an hourly wage is a good thing, the goal is to take your earnings and put it to work for you. Those were some of the unique principles that Mr. Kiyosaki talks about. He teaches his mindset of business owner mentality through his story of what he saw and learned from his father (the poor dad) and his best friend's father (the rich dad).
The two big points I took from this book were 1) Make your money work for you, rather than being a slave to money, and 2) Be wise with the people you take advice from. Check fruit on the tree in the area they are giving advice in.
---
Go For No – Richard Fenton & Andrea Waltz Follow on Twitter
I call this book my reluctant read that I should have read much sooner. I had been recommended this book and told by a dozen friends that it was not only a fun read but was a great philosophy to keep you motivated and make stuff happen. After a year of hearing about this book I finally was intrigued and ready to read it. Long story short, this fictional book is captivating from the first few pages and gives an actionable philosophy to take forward in your life. Although it may be geared to those in sales, it is a must read for anyone that needs to understand failure is part of the process of success and can be made a fun motivator.
---
The Greatest Miracle In the World – Og Mandino
I read this book in a coffee shop (Coffee Rush) in one sitting in 2003. From that day forward, being a Ragpicker was a must. If you are looking for a book that will make you laugh, make your eyes sweat (no crying here), appreciate your life, and push you to want to make a difference, then this is your book.  This book taught me many things, but above all, I learned that appreciating every day and looking for opportunities to give your knowledge and expertise to others is important.
---
4 Hour Work Week – Tim Ferriss Follow on Twitter
For me reading this book was a total Paradigm Shift. From Virtual Assistants, to Mini Vacations, it pretty much went against everything I had learned up to this point (2007) about business and living life. The chapter about a mock company testing a business idea with Google Adwords, inspired me to start an adwords campaign on a company I was a reseller of and within 3 years I did over $500k in sales from those campaigns alone for myself and 3 others with a 25% profit after advertising and production costs.
I know that millions of people have benefited from Tim Ferriss' book and principles, and I alone attribute much of the direction my company has taken in the past 3 years to his teachings.
If you are an Entrepreneur, or in the Wantrepreneur stage, this book is a must read.
---
21 Irrefutable Laws of Leadership – John Maxwell Follow on Twitter
I am not going to give you a history lesson on John Maxwell, simply go to http://en.wikipedia.org/wiki/John_C._Maxwell to find out a bit about him, or go to Barnes and Noble and look at the section he takes up in Leadership and Management. This book breaks down 21 laws, or principles of leadership. What was fascinating to me was there were only a few that couldn't be learned and worked on like any other skill. When looking at some of the great leaders in business, military, or religion you will see clearly many of the laws that they make a practice of.
If you are leading a large organization, small team, or Boy Scout group — then these principles will serve you and your subordinates well.
---
The Go Getter – Peter B. Kyne
If you have ever heard the phrase "Be a blue vaser" this is where that comes from. An extraordinary story of a wounded veteran who fights tremendous odds to complete a task given to him for a chance at a job. This book is one that will leave you motivated and excited about overcoming obstacles in your life. However, if you just enjoy a good fiction book, this will quench that thirst as well.
---
Awaken the Giant Within and Unlimited Power – Anthony Robbins Follow on Twitter
After watching infomercials from Tony Robbins for as long I can remember, in 2007 I finally gave in and bought his two most popular books. Countless gems are in these books including: establishing rapport, productive goal setting, modeling, and his Neuro-Associative Conditioning pattern teachings. The books are peppered with many fun stories of well known clients he has worked with, as well as many studies and book references that helped him build his system, philosophy and personal fortune. Recommended to anyone that needs a kick in the pants and is ready to take action on what they really want in life.
---
Master Key to Riches and Think and Grow Rich – Napoleon Hill
Have you ever wanted to interview the most successful people in the world to find out what is different about them and those that don't succeed to their level? This was the task given to Napoleon Hill by the steel tycoon, Andrew Carnegie, in the early 1900's. It was a task that Carnegie told Hill his payment would come in the process of his study and interviews rather than payment from him.  Over the next 20 Years, Hill interviewed the most successful people in the world at the time and found the commonalities that bonded them all. Hill then went on to write many wonderful books, and among them were the 2 masterpieces, Master Key to Riches and Think and Grow Rich.
When reading these books a few tips: 1) Have a highlighter, or make sure to mark up on your reading device. 2) Don't feel dumb if you can't read these books as fast as others. It is dense with philosophy, research, and stories to support. I found myself often re-reading pages to fully digest what was being explained.
---
How to Win Friends and Influence People – Dale Carnegie
When I read this book in 2003, I immediately realized why I had been losing friends and alienating people by doing many things exactly the opposite as the book teaches. If you are a Type A personality, and are highly goal-oriented, then this is a must read for you on how to not run over people. Many golden nuggets in this book, but the two I keep at the forefront of my mind all the time are, "let me see this from the other person's perspective," and "Being a good listener makes you way more interesting than talking about yourself."
---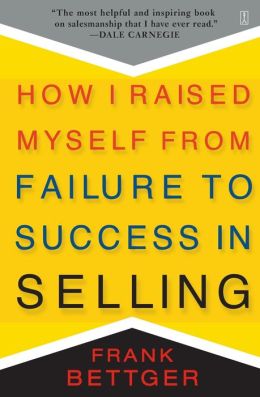 How I Raised Myself from Failure to Success in Selling – Frank Betger
Don't let the title fool you, this isn't just about sales. Frank Betger was a former baseball player and an insurance salesman than found a way to go from being awful at both to being a great ballplayer, and what many would consider one of the most successful insurance salesman of all time. The first 10 pages of this book are enough to permanently change your future if you are willing to give it a go. Personally I re-read this book once every 2 years, and every time, there is something new that applies to where I am at in my business and life. If you need anymore incentive, back when I worked for another company, I used some of Frank's advice to get a $10k per year raise in about 10 minutes — at the time it may as well have been a million.
Special thanks to a long time friend, Eric Lewis, that introduced me to several of these books and to my Dad for instilling in me the importance of reading (although it took me 19 years to listen).